LightNews.us Prophecy for Today, Internet Oracle, www.
Awakening-Healing.com
Multi-Dimensionality, ET, Cosmic, Comic, Comet & InterPlanetary News, "News in the Now"
Angelic
Astrology Oracle,
Personal Intuitive Counseling, Reports & Healing.
U
nique Astrology Readings & Personal Reports: Life Maps for knowing YourSelf.

---

Is Marijuana good for teens? Report and Links Below

Is the Major "Drug Abuse Problem" Prescription Drug Use?

---
Dear Friends,
Nov 9 2007 New Moon-Comet Holmes Update
& the Upcoming Nov 24 Full Moon-Comet conjunction
The Lunar Month of
Nov 9, 2007 - Dec 9,2007
Occurring on the New Moon of Nov 9, 2007
Comet's Tail breaks away.
"COMET TAIL: Exploding Comet 17P/Holmes continues to amaze onlookers. On Nov. 8th and 9th part of the comet's blue tail broke away in view of many backyard telescopes. Visit
http://spaceweather.com
(Nov 10 archive) to see photos of the "disconnection event" and speculation about what might have caused it." (Quote from SpaceWeather.com)
The Full Moon of the Nov 9 Lunar Cycle conjoins Comet Holmes and Mirphak in Perseus
An excerpt from the Nov 9, 2007 Lunar Planner:
"Comet Holmes' dramatic eruption in Perseus occurred in the last lunar cycle (Oct 07). The Full Moon of Nov 24, 2007 significantly conjoins Holmes while retrograde Holmes and Mirphak conjoin in both ecliptical longitude and latitude. What a significator! Comet Holmes illumines and accentuates this Mirphak Full Moon theme; and perhaps our need to rise-to the occasion as the hero Perseus does in his initiatory journey to claim the success and achievement that Mirphak embodies. The realizations this Full Moon offers, whatever they may be for each of us, may be of extreme significance."
The Nov 9, 2007 Lunar Planner is Now Available
The Lunar Month of
Nov 9, 2007 - Dec 9,2007

Including the very significant 13-year Jupiter-Pluto Synodic Cycle
"The theme of this new 13-year cycle in early sidereal Sag is
dramatically different than the last 1994 Jupiter-Pluto cycle,
which began sidereal Scorpio; and thus, the next 13 years will be
dramatically different than the last 13 years..."

A few topics presented in this Month's Lunar Planner:
* This New Moon of August 12, 2007 occurs in late sidereal Cancer, under the auspices Merak, the Second brightest star of the Great Bear (Ursa Major) and Algenubi, the Eye of the Lion. The events occurring from the New Moon of Aug 12 through the First Quarter Moon of Aug 20 set off a dynamic lunar month. Not for the faint hearted...
* The New Venus 584-day synodic cycle / Saturn, Venus & Orcus
* The Gibbous Moon's multiplicity of opportunity
* The Total Lunar Eclipse of August 27-28 / Unity Consciousness
* Jupiter & Ixion in the year of mobilization
* The Unicorn - A magical and unexpected gift...

A few more topics presented in the Nov 9, 2007 Lunar Planner:
* Relationships in the Balance
* Mars Retrograde begins
* Action - From the Heart of the Swan
* The Opening - The Jupiter Pluto Synodic Cycle & the next 13 years
* The Full Moon: Comet Holmes, Perseus, & the Pleiades
* A Moon Wobble
* Varuna establishes a new order
* Mercury and Juno in Scorpio
* Setting a new course
* Places of the Heart & the Venus bi-polar Vortex

The Lunar Planner
Includes:
o The Introduction - How to Use the Lunar Planner (7 page PDF file)
o The Lunar Calendar for this Lunar Month (2 page PDF file)
o The Sidereal Astrology for this Lunar Month (printable WEB page)
o The NEW Lunar Planner Forum
o The Holy Cross - The Sacred Geometry of Earth's Precessional Cycle
...and much more
---
---
---
NEW MOON
Late Friday afternoon the New Moon occurs at 17 Scorpio 10. It will be exact at 6:02 PM EST, 5:02 PM CST, 4:02 PM MST and 3:02 PM PST.

Scorpio represents the heart of autumn, when the life force is retreating into the root systems, and the animals have burrowed into their underground chambers, having prepared their stores to see the winter through. It is a time of contemplation. It is a time of going within. There are no major fixed stars within a degree of this position this month.
CHART OF THE NEW MOON
The principle aspects occurring at the time of the New Moon this month are a hidden parallel between the Sun and Pluto, and the New Moon approaching square to Neptune. Strong emotional forces are being deeply stirred.
With Neptune involved, our subliminal currents are being activated. Don't be surprised if there are sudden shifts of mood, with those around us suddenly venting strong feelings. Anger, rage and jealousy are possibilities. Not having enough money to pay the bills, or having a bill which really ticks you off to have to pay can also be some of the issue. The reaction to situations like this is often that the individual launching these explosive salvos know what and why they are doing this, but such is rarely the case. The subconscious is just that, below the level of consciousness. They usually DON'T know what the source of these reactions trigger from and are as surprised about it as you are. The high side to this combination can be the history, wound, or source of these sentiments are closer to the surface, and this can be an excellent opportunity to help them get to the bottom of these problem, to help them work through and understand that what they are really reacting to took place a long time ago. The conditions may feel similar, but learning to separate then from now can help to make the issue more manageable. Usually with Neptune, it is a sense of loss and (with Scorpio) fear that are at root here. IF they don't take your head off in the attempt, we can gain a better understanding of the deeper forces that move us, unconsciously shaping our world and our reactions to it. On the other hand, the more powerfully they react can be an indication of how close you are to the mark. It is a defensive, knee-jerk response which is seeking to protect itself. Scorpio deals with sexual, financial and control issues. We can feel as though circumstances are forcing us to pick a course of action we are not interesting in pursuing (he said diplomatically). Passion is running very high, and sexuality can be used to help access and vent some of these forces, but it is also very easy for these same themes to be turned such that they perceive you to be the source of the problem rather than its solution. This is YOUR fault (people instinctively look outside of themselves for the answer) and YOU are the one backing them into this corner.
You are the devil incarnate.
Shame on you.
On the flip side this can be an energy that makes for major changes and can clean, repair or renovate major projects. Turn it over, throw it out.
TRAVEL

I am currently in the middle of a New England run and am back to attend to a few of the folks that wanted charts from last summer, when family affairs (Mom's passing) kept me busy. I will be leaving on November 27th for a talk in San Francisco on the 29th. While I have already made a run down through Cape Cod and Nantucket, there is enough chart interest there for another run, and I haven't even made it out to Western Mass (very unusual for me, since that was home for 30 years), Rhode Island or Central Connecticut yet. This week I just visited Yonkers, and am currently in Southold, on eastern Long Island.

Please let me know soon if you are in any of these areas and would like a reading. Thanksgiving is right around the corner and will clip some of the few remaining days we have left. If you are one of the dozen or so people who have already requested a reading, I will be contacting you in the next couple of days to outline when I will be where.

Thank you for you interest and responses. I must say it gets cold in New England in the winter, something we don't see much of out in Santa Cruz.

Blessings to all-

~Don
-- 

260 McGivern Way
Santa Cruz, CA 95060
(413) 219-4214 cell
(831) 458-1359 home

.....................................................................
Athena's Web: http://www.AthenasWeb.com
.........................................................................
NCGR certified astrologer:
http://geocosmic.org/certastr/astro.php?CertAstroIdx=17
................................................................
Star*Myths and Fiske Planetarium
Production Assistant for
Deep Impact and Solar Storm
University of Colorado- Boulder
---
---
Astrology of November 2007
by Henry Seltzer is available online.
A month of changes in water signs with Mars turning retrograde and Uranus also changing direction, later in the month, and the New Moon triggering it all off... The November 9th Scorpio New Moon also squares Neptune, numinous harbinger of events and feelings beyond this physical plane, so that confusion and even outright deception might come up for us as well over the course of this monthly cycle...
Read Your Sun Sign Horoscope for November »
Get to Know Your Planets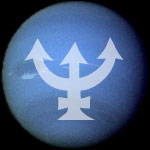 Neptune in Review
Neptune is the eighth planet from the Sun in the Solar System, and is seventeen times the mass of Earth. While Neptune boasts the strongest winds of any other planet in the solar system, it also has an intense bright blue appearance that is attributed to trace amounts of methane in its atmosphere. The planet is named after the Greek God of the Sea Poseidon, and its astrological symbol is a stylized version of Poseidon's mighty three pronged trident.
Both God of the sea and the ruler of Pisces, Neptune finds exaltation in Cancer. Neptune, associated with universal love, is said to be the higher octave of Venus, which rules individual love. Neptune represents the universal ocean of oneness with all beings. Therefore, Neptune is highly compassionate, idealistic, and imaginative. It is considered a planet of inspiration, dreams, and psychic receptivity. Neptune rules spirituality, and all things subtle. The more negative manifestations of Neptune include deception, trickery, deceit, guilt, and addiction associated with drugs, alcohol, or even media and fantasy. Its position in a person's chart would indicate where there may be confusion or illusion, and also great creativity in the poetic and musical fields.

---
---
---
StarIQ.com New Moon Report,
November 9, 2007
by Jeff Jawer

Jeff Jawer and Rick Levine are counseling astrologers with clients from all walks of life. To find out how to arrange a private consultation with Jeff, see:
http://www.stariq.com/Jawer
To find out more about a consultation with Rick, go to:
http://www.stariq.com/Levine

New Moon in Scorpio
Friday, November 9, 3:03 pm PST, Thursday, 6:03 pm EST


The intense emotional force of the Scorpio New Moon usually drives feelings deep inside to scoop up pieces of the past and re-examine them in light of current circumstances. This time, supportive trines to the Sun-Moon conjunction from active Mars and revolutionary Uranus provide powerful motivation for letting go of old wounds, uncovering hidden resources, and applying them in new and different ways. Freedom from chronic emotional pain comes by following intuition and moving forward, rather than looking back and being mired in disappointment. Mystical Neptune's square adds a spiritual dimension that increases the capacity to forgive yourself and others.

Mercury in Scorpio
Sunday, November 11, 12:41 am PST, 3:41 am EST


Perspectives shift below the surface to uncover secrets and reveal the psychological influences that affect behavior. The communication planet in this passionate sign increases the force of words, which can make people reluctant to express themselves openly. Probing minds are better received when they combine tenderness with curiosity and intimacy grows when confidentiality is assured. Research is rewarded with nuggets of gold for those with patience and persistence.
Mars Retrograde
Thursday, November 15


The assertive warrior planet, whose fire is already tempered in watery Cancer, turns even milder with this backward shift. Launching new projects may be more complicated until Mars goes direct on January 30. Old frustrations, especially with family, may flare up as we revisit key moments of personal history. A general mood of crankiness is possible, so managing fear and insecurity is necessary for maintaining civility. Tie up loose ends and do maintenance work to clear the decks for the next big adventure.
Sun in Sagittarius
Thursday, November 22, 8:40 am PST, 11:50 am EST


The joy of this thankful season aligns with the Sun in enthusiastic Sagittarius. Big ideas, thoughts of adventure, and high expectations set targets that will stretch our boundaries. Everyone gets to be a philosopher with opinions about what life means. Expanding mental and physical horizons are gifts of this outgoing sign, yet judgment of others should not be given generously, but served in tiny, tactful portions.
Uranus Direct
Saturday, November 24


The planet of revolution's direct turn normally frees up forces of change. While there may be some breakthroughs happening, Mars' retrograde can dampen the fuse and keep most bombs from exploding. Frustration with authority figures or restrictions of any kind produces inner pressure to react, yet ill-planned acts of rebellion are likely to fail. Respect your right to be free by carefully thinking through the steps to achieve it.
Full Moon in Gemini
Saturday, November 24, 6:29 am PST, 9:29 am EST


This normally bright and breezy Sun-Moon opposition sprinkles ideas and information across a wide landscape. Now stern Saturn squares both luminaries to diminish the potential for brilliance. Exciting conversations and concepts can be sidetracked by mundane responsibilities and practical limitations. When it comes to ideas, only the strong survive because there's less tolerance for random theories. Avoid an information overload or talking when listening is really the key to connecting.
Mercury in Sagittarius
Saturday, December 1, 4:21 am PST, 7:21 am EST


The planet of data and details can sometimes get lost in Sagittarius' vast philosophical spaces. Facts turn fuzzy as salesmanship overcome scholarship. An upbeat attitude is a plus here as it's possible to overlook present problems to see future positives. Yet if we focus too much on seeing the whole forest, we might run into a tree.
Venus in Scorpio
Wednesday, December 5, 5:29 am PST, 8:29 am EST


Magnetic Venus entering emotionally powerful Scorpio evokes desire, passion and jealousy. A tendency to be dissatisfied in relationships can feed the hunger for more. Intimacy advances when we are willing to invest deeply in ourselves and our partners rather than merely skimming the surface. Trust is hard-earned, so respect the privacy of others. Silence is sexier than gossip for those interested in getting to the heart of love.
The New Moon in Scorpio offers a seed of desire that originates from our very depths. What we want can also be what frightens us, so don't back away at the first sign of danger. This is about taking risks, but not necessarily physical or social ones. The challenge is to look beyond pride and politeness to tap into the very essence of your needs. What you find might be something you cannot pursue, but simply exploring is an awakening that can empower you to seek other forms of fulfillment.
Have a great month!
Jeff Jawer, Publisher, StarIQ.com
...because timing is everything!
http://www.StarIQ.com
The online version of this New Moon report, including the charts of the New and Full Moon can be found at
http://www.stariq.com/NewMoonReport.htm
(c)2007, StarIQ.com, Inc.
---
---
---
TIPS ON PUMPING GAS -- THIS IS GREAT INFO!!!

I don't know what you guys are paying for gasoline. Here in

California

we are also paying higher, up to $3.50 per gallon. But my

line of work is in petroleum for about 31 years now, so here are some

tricks to get more of your money's worth for every gallon.

Here at the Kinder Morgan Pipeline where I work in

San Jose, CA

we deliver about 4 million gallons in a 24-hour period thru the

pipeline. One day is diesel the next day is jet fuel, and gasoline,

regular and premium grades. We have 34-storage tanks here with a

total capacity of 16,800,000 gallons.

Only buy or fill up your car or truck in the early morning when

the ground temperature is St ill cold. Remember that all service

stations have their storage tanks buried below ground. The colder the

ground the more dense the gasoline, when it gets warmer gasoline

expands, so buying in the

afternoon or in the evening....your gallon is not exactly a

gallon. In the petroleum business, the specific gravity and the

temperature of the gasoline, diesel and jet fuel, ethanol and other

petroleum products plays an important role. A 1-degree rise in

temperature is a big deal for this business. But

the service stations do not have temperature compensation at

When you're filling up do not squeeze the trigger of the nozzle

to a fast mode. If you look you will see that the trigger has three

(3) stages: low, middle, and high. In slow mode you should be pumping

on low speed, thereby min imizing the vapors that are created while

you are pumping. All hoses at

the pump have a vapor return. If you are pumping on the fast

rate, some of the liquid that goes to your tank becomes vapor. Those

vapors are being sucked up and back into the underground storage tank

so you're getting less worth for your money.

One of the most important tips is to fill up when your gas tank

is HALF FULL or HALF EMPTY. The reason for this is, the more gas you

have in your tank the less air occupying its empty space. Gasoline

evaporates faster than you can imagine. Gasoline storage tanks have

an internal floating roof. This roof serves as zero clearance between

the gas and the atmosphere, so it minimizes the evaporation. Unlike

service stations, here where I work, every truck that we load is

temperature compensated so that every gallon is actually the exact

Another reminder. If there is a gasoline truck pumping into the

storage tanks when you stop to buy gas, DO NOT fill up--most likely

the gasoline is being stirred up as the gas is being delivered, and

you might pick up some of the dirt that normally settles on the

Hope this will help you get the most value for your money.
---
---
---
Marijuana Policy Project Alert
November 7, 2007

Marijuana good for teens?

Teenagers who smoke marijuana but not cigarettes are more likely to get good grades, play sports, and live with both parents than those who use both marijuana and tobacco, according to a new Swiss study.

The researchers concluded, "Cannabis-only adolescents show better functioning than those who also use tobacco."

Of course, this study isn't generally something you'll see on CNN or other U.S. mainstream media outlets, unlike U.S. government-funded studies that purport to show marijuana's harmful effects, which always seem to get extensive news coverage.

That said, Fox News has an online story here, which you should "Digg" to make it one of the biggest news stories of the day. If you have a moment right now, please do so without delay.

Other than the Fox News story, only Reason Magazine's blog and United Press International have covered the study — which was just published in the November issue of Archives of Pediatrics & Adolescent Medicine. You can view the abstract of the study (and purchase the full study) here.


The study compared teens who (1) smoked both marijuana and cigarettes, (2) smoked marijuana but not cigarettes, and (3) used neither.

The study found that teens who smoke marijuana were more likely to have a good relationship with their friends than teens who didn't use marijuana or cigarettes.

Compared to those who smoked cigarettes in addition to marijuana, the marijuana-using group was also less likely to have been drunk in the past 30 days, less likely to have used marijuana before the age of 15, less likely to have smoked marijuana more than once or twice during the previous 30 days, and less likely to use other illegal drugs.

Other differences between marijuana-only users and abstainers were pretty minor. For instance, the marijuana-only group was more likely to skip class but still had the same level of good grades as the abstainers. And the marijuana-only group wasn't any more likely than the abstainers to be depressed.

To be clear, MPP doesn't recommend that teens use marijuana, but we do think that public policies that put teens and adults in prison for using marijuana are misguided and therefore should be reformed.

Thank you for your support.

Sincerely,

Rob Kampia
Executive Director
Marijuana Policy Project
Washington, D.C.

P.S. We are happy to be honoring your request not to receive donation pitches from us in our e-mail alerts. However, if you change your mind and would again like to learn about our funding needs, please visit www.mpp.org/2007optoutpreference to opt back in.

Raised in '07
$2,084,580
Goal in '07
$3,000,000

MPP will be able to tackle all of the projects in our 2007 strategic plan if you and other allies are generous enough to fund our work.

Popular Links:
MPP's home page
FAQ
State-by-state medical marijuana laws
MPP news releases
2007 strategic plan
Download hand-outs
About the Marijuana Policy Project
MedicalMarijuanaProCon.org

MPP e-mail list options
Update your contact information or change your alert preferences
Small Print
You are receiving this e-mail because you subscribed to MPP's e-mail alerts. To unsubscribe, click the link at the bottom of this message. Removal may take up to two business days. To contact MPP, please click here or reply to this e-mail. Our mailing address is MPP, P.O. Box 77492, Capitol Hill, Washington, D.C. 20013.

---

We are required by federal law to tell you that any donations you make to MPP may be used for political purposes, such as supporting or opposing candidates for federal office.
---
---
Around the World with NCGR
Calendar of Events Astrology
~~~~~~~~~~~~~~~~~~~~~~~~~~~~~~~~~~~~~~~~~~~~~~~~~~~~~~~~~~~~~~~~~~~~~~~~~~~~~~~~
Issue No. 1
November 11, 2007
In This Issue
NCGR Testing at UAC
UAC, NCGR Sessions &<br>Chapter Workshop Annapolis, MD AstroMexico Austin, TX Austin Chapter Conference Baltimore, MD Berkshire Fairfield (CT) Boston, MA Chicago,<br>Southwest Suburban Florida Atlantic Long Island Los Angeles Milwaukee Mid Hudson Upstate, NY Montana Big Sky New York North Carolina Northern Illinois Northern New Jersey Ohio Valley Richmond, VA San Diego San Francisco SMART, Michigan Southwest Suburban Chicago STARS, MN Turkey, Istanbul Other Non-Profit<br>Astrology Groups, USA:<br>Arizona Society, Scottsdale;<br>Friends/Astrology, Chicago;<br>St. Louis, MO;<br>North Texas<br> More Non-Profit Groups,<br>Outside the USA:<br>Canada, London Conferences, International:<br>International Uranian Fellowship NCGR Membership Information About E-News
~~~~~~~~~~~~~~~~~~~~~~~~~~~~~~~~~~~~~~~~~~~~~~~~~~~~~~~~~~~~~~~~~~~~~~~~~~~~~~~~
Quick Links
NCGR Website [http://rs6.net/tn.jsp?e=001enFevBlP6OXCTi1JmztuF_zKK2p14MUgcKp_yeROe7CtR9Npfyq6NDFnkWwBw5TpBWLRhlD-E0QGtphT9KyoOtFcz3B4Rn7jHEmJkkhdFJuq5GimRY8y3g==]
uacastrology.com [http://rs6.net/tn.jsp?e=001enFevBlP6OXSAe0oetAFIt0KCphBwNwDAapScjqEXE2gXNwYGjW3n98svk2pRY-whuy3m0a42s7lmi2djndR3SOV1qsiG_rfSor70zV3MGyC0Bo8tOVvuQ==]
~~~~~~~~~~~~~~~~~~~~~~~~~~~~~~~~~~~~~~~~~~~~~~~~~~~~~~~~~~~~~~~~~~~~~~~~~~~~~~~~
Natterings
Welcome to NCGR's new E-Calendar Around the World with NCGR!
Starting this week, our biweekly calendar of events will have a new mission - to serve as a "one-stop" place to find events of astrological interest, regardless of where you live or travel on our planet.
To fulfill this purpose, Around the World with NCGR will be distributed free to anyone interested in astrology. The first edition of the revamped E-Calendar will more than double in circulation, from nearly 2,000 to close to well over 4,000 recipients.
Feel free to forward Around the World with NCGR to anyone you think will be interested
in receiving it. A link to update your information is located at the end of this
page.
We would love to hear about events going on in your country and your community.
Around the World with NCGR accepts all announcements for events that are (1) focused
on astrology and (2) sponsored by a non-profit organization. However, the publication
is not an advertising venue; listings of astrology classes or lectures by individuals
will not be accepted, nor will psychics, feng shui experts, palm or tarot readers,
etc., fine as those practices are. Submissions to Around the World with NCGR should
be sent to execsec@geocosmic.org [
mailto:execsec@geocosmic.org
] -- preferably as
a Word document.
We hope you will enjoy Around the World with NCGR. We will be adding new features
in the coming months, all of an astrological nature. We also look forward to your
feedback!
Liane Thomas Wade
NCGR Executive Secretary,
For the Board of NCGR
P.S. If you choose not to receive Around the World with NCGR again, hit the "opt
out" link at the top of this page.
Forward to a friend [
http://ui.constantcontact.com/sa/fwtf.jsp?m=1101000539715&a=1101862174056
]
~~~~~~~~~~~~~~~~~~~~~~~~~~~~~~~~~~~~~~~~~~~~~~~~~~~~~~~~~~~~~~~~~~~~~~~~~~~~~~~~
Changes to the Calendar this week:
Annapolis
Baltimore
Boston
Northern New Jersey
Northern Illinois
Richmond
San Diego
Conferences: Austin & New York City.
Check listings by clicking on name you want in the long list.
Other Non-Profits:
Arizona Society
International Conferences:
Uranian Conference, Riga, Latvia
* * *
~~~~~~~~~~~~~~~~~~~~~~~~~~~~~~~~~~~~~~~~~~~~~~~~~~~~~~~~~~~~~~~~~~~~~~~~~~~~~~~~
NCGR's New RSS News Feed
NCGR's home page at
www.geocosmic.org
[
http://rs6.net/tn.jsp?e=001enFevBlP6OXCTi1JmztuF_zKK2p14MUgcKp_yeROe7CtR9Npfyq6NDFnkWwBw5TpBWLRhlD-E0QGtphT9KyoOtFcz3B4Rn7jHEmJkkhdFJuq5GimRY8y3g==
]
now features an "RSS news feed" that provides easy links to current NCGR news found
at various places on the site. During our testing period for the news feed, we have
been including stories about astrology from around the Internet. For example, in
the last week our feed linked to stories about:
- A new young-adult novel that is the first of a series of 12 with astrological
themes.
- Striking body paintings illustrating the signs
- A tradition at Iowa State University that students should not step on a zodiac
design in the Memorial Union on the day of a test.
These have been interspersed among news items about the NCGR candidates
for the upcoming election, our MP3 sales, and certification, among others.
The news feed headlines along with descriptive blurbs appear under "NCGR News and
Announcements" in the lower right corner of the main page, where you can read a
brief description of the stories and click on the headlines in order to get to the
stories themselves. Those who already use feeds like this already know that they
can also be read without even going to geocosmic.org, as most newer browsers (Internet
Explorer 7 and current versions of Firefox are examples) and even some email programs
already have built-in facilities to collect the feed and show it in a newsreader.
Browsers that automatically handle news feeds will show the RSS symbol (icon in
upper right of this article) in the address bar of the browser. Clicking on the
icon will take you to page that allows you to "subscribe" so you can read it within
your browser.
Even though the RSS feed itself is more or less standard, there are so many ways
to access it in a newsreader or browser that we won't try to go into the details
here. For those not yet familiar with RSS news feeds, the feed content itself is
right there on our home page. Just click on the headlines to go to the full stories.
Ken Irving
* * *
>From Jackie Slevin, a link to fascinating information:
http://www.nytimes.com/2007/11/06/science/space/07planetweb.html?_r=1&oref=slogin
[
http://rs6.net/tn.jsp?e=001enFevBlP6OXJOHI_peSyc7PEknJct_nMSeKKS_8f0eopkeaIqXeOqu8oJgpXJimf5Nwa1YcQy6HgYb8B9qe4AR0-Y0KG92cPuvg7DNdxqBBf2ePC_ORFNLZWUozLfBbOsGK-59qZPnIF0nMd-hEj2LTUSshvu_s56kqaH7MpbKUqGX2fo9ms8xg6Y4Wn-D0NJTgb_LjqC5dQszqMeOgxfg==
]
~~~~~~~~~~~~~~~~~~~~~~~~~~~~~~~~~~~~~~~~~~~~~~~~~~~~~~~~~~~~~~~~~~~~~~~~~~~~~~~~
UAC Hotel and Travel NEWS
United Airlines has been selected as the official airline of UAC 2008. Using the
UAC 2008 meeting ID (577NJ), attendees can get discounted fares on United, United
Express, & Lufthansa and earn Mileage Plus ® miles.
United Airlines is offering special discounts for UAC 2008 attendees. Simply call
(or have your travel agent call) United's Special Meeting Desk at (800) 521-4041
and refer to Meeting ID 557NJ to receive a 2 - 15% discount off applicable fares
(including First Class). This special offer applies to travel on domestic segments
of all United Airlines, United Express, TED and United code share flights (UA*)
operated by US Airways, US Airways Express and Air Canada. No customer call center
fees will be charged when you use this toll-free number.
International attendees will receive a 7-15% discount off the lowest applicable
fare (excluding First Class) when they call their local United Airlines reservation
number and refer to meeting ID number 557NJ. Discounts apply to United and Lufthansa
(code share) flights.
Attendees booking online at
www.united.com
[
http://rs6.net/tn.jsp?e=001mWDt4-2uzLliOSOUsCUVy5uigxdodXtRvwyJH4bYI4wId6Q2ZmjwP4-SZhYLN0gTS32p9pKUhhHEXyeizDU6i5c4N6IMI6mtuyzBanYc-NrKSoj0wuTIhA==
]
can save an additional 5% on applicable fares. Click on the drop-down arrow next
to "More Search Options" or on the "Upgrade, promotions, . . ." link in the lower
left corner of the united.com homepage and enter the meeting ID number (557NJ) in
the box below "Electronic certificate or promotion code". (This united.com functionality
should be available by Wednesday, August 29, 2007.)
To get these discounts your travel must be completed between May 4, 2008
and May 31, 2008.
This information will be posted on the UAC website -
www.uacastrology.com
[
http://rs6.net/tn.jsp?e=001mWDt4-2uzLnog7cDdaAj2biA9k7oc8fJltagLsmQ2PxWzD3yX5yE0jWGh5S3xYpZLpZevzAXlQtDLg8fOwKQTaBsfs_Ar7UMnb4KARA256LtKXv63nPAFg==
].
If you have any questions about this arrangement, you can reach me at the UAC registration
hotline 773.290.6939 or 866.557.4168 (toll-free). You can also reach me via email
at registrar@uacastrology.com [
mailto:registrar@uacastrology.com
].
* * *
We still have need for additional room monitors to help out during the conference
as well as pre- and post-sessions. Room monitors will receive reduced tuition for
the conference, plus the opportunity to meet and support the world-class faculty
members and staff! For more information or to sign up, please contact Mikel Poulsen
at mikel@mikelpoulsen.com [
mailto:mikel@mikelpoulsen.com
] or 206.320.1249.
________________________________
NCGR Chapter Leadership Workshop at UAC
A FREE Chapter Leadership Workshop will be conducted for all NCGR Chapter Officers
on May 15, at 1:00 - 5:00 pm, Thursday afternoon before UAC offically begins.
Some of the subjects will be:
How to Lead a Chapter without it Leading You.
Every Officer has a Role.
The Fine Art of Delegation.
The Advantage of your By-laws
Attracting Members and Keeping Them.
Apply the Opportunities of your Non-profit Status.
Liven your Coffer with Fund Raising.
Keep Records Happy with anUptodate EIN.
The Latest on Opening and Keeping a Bank Account --
and much more.
Special for Presidents:
How to find Board members and how to conduct a Board meeting.
Special for Treasurers:
Demonstration of simple bookkeeping software.
If you have a particular subject in addition to these that you would like discussed,
please let the Director of Chapters know. There will also be time for questions
during the workshop.
We are planning a fun as well as a helpful event and we hope all Chapter Officers
will join us.
As time gets closer in the early Spring, we'll offer a sign-up list.
Best wishes for a Happy Autumn,
Leigh Westin
Director of Chapters
* * *
In keeping with our successful NCGR Conference theme of Astrological Tools for the
21st Century, we are pleased to present two workshops at UAC in Denver:
Wednesday, May 14, 2008. 9:30 am - 5 pm(90 minute lunch break).
Astrology as a Profession: Building a Successful Practice.
Whether you are just beginning your professional practice or already have one underway,
this workshop is for you. Here's everything you need to know about starting right
for success as well as improving your practice and adding to your bottom line. Learn
how to promote yourself, your image, basic bookkeeping, how to handle difficult
clients and so much more. This workshop even includes techniques for maintaining
your schedule and your sanity (time-management and goal-setting) to how to incorporate
your business and whether or not that's a good choice for you. Let successful astro-entrepreneurs
share with you their secrets for success and fulfillment in your own practice. Presenters
include Madalyn Hillis-Dineen, Joyce Levine and Grace Morris. Fee: $125.
Thursday, May 15, 2008. 2:30-5:30 PM.
Information Technology for Astrologers: This basic class will help you to learn
the ins and outs of Windows Explorer and introduce you to the MS Office Suite of
Word, Excel, Power Point and Publisher. You'll also learn how to send and receive
email attachments and how to use your computer to record your consultations as MP3s.
Fee: $30
Or
Using Technology to Grow Your Astrological Practice: The home computers of the early
1980's were a boon to professional astrologers by both allowing them to save time
in calculating their charts and experimenting with new techniques and calculations.
Now, the tools of 21st century technology are just as significant for the professional
who wants to reach a broader market. This workshop starts with teaching you how
to record your consultations but also includes how to teach a class on line, design
a web page, and produce your own podcasts. Fee: $30
For more information and registration, visit
www.geocosmic.org
[
http://rs6.net/tn.jsp?t=7n6agecab.0.zrtugybab.ds46lmbab.2119&ts=S0278&p=http%3A%2F%2Fwww.geocosmic.org%2F
],
or contact Liane Thomas Wade, Executive Secretary, at execsec@geocosmic.org [
mailto:execsec@geocosmic.org
],
212-838-NCGR (6247).
~~~~~~~~~~~~~~~~~~~~~~~~~~~~~~~~~~~~~~~~~~~~~~~~~~~~~~~~~~~~~~~~~~~~~~~~~~~~~~~~
Annapolis, MD
This group meets on the 2nd Saturday of every month at the MARYLAND HALL F0R THE
CREATIVE ARTS in Annapolis - Room 205. TIME: 10:30am to 12:30pm.
Rose O'Hara at 410-768-1404 or Lynn Koiner at koiner@starpower.net [
mailto:koiner@starpower.net
]
The group meets for lunch afterwards.
NOVEMBER 10 - TAO OF ASTROLOGY with Kelly Lee Phipps
DECEMBER 2: ANNUAL YULETIDE LUNCHEON on December 2, Sunday, from 11:30am until 4:00pm
at the Sheraton-Barcelo in Annapolis. Economist and Financial Astrologer, Mary Barcella,
will be lecturing on the upcoming financial trends based upon the alignment of the
outer planets.
JANUARY 13 2007 - ORACLES 2007 with Jeanne Mozier
Jeanne Mozier, returns with her predictions for 2007. Last year she lectured to
a full house, giving an analysis of personal, economic, political and spiritual
trends for 2006 with a detailed calendar of events, including a description for
each astrological sign.
Jeanne has been a practicing astrologer for over 25 years. She owns and operates
the Star Theater, she is an arts activist, writer and metaphysicial. She has written
2 books featuring travel in her adopted home state of West Virginia. Check out her
website:
www.starwv.com
[
http://rs6.net/tn.jsp?t=il4ubgcab.0.k4fongcab.ds46lmbab.3367&ts=S0291&p=http%3A%2F%2Fwww.starwv.com%2F
]
NOTE: This is a special event. Members $7/Non-Members $10
~~~~~~~~~~~~~~~~~~~~~~~~~~~~~~~~~~~~~~~~~~~~~~~~~~~~~~~~~~~~~~~~~~~~~~~~~~~~~~~~
AstroMexico
Viernes 23 de Noviembre:
VI ANIVERSARIO DE ASTROMEXICO: Conferencia y convivio
Conferencia: "La astrología y el destino"
Impartida por: Luz María Lazcano, NCGR 2
Friday, November 23th :
VI ASTROMEXICO ANNIVERSARY: Conference and toast
Conference: "Astrology and fate"
By: Luz María Lazcano, NCGR 2
Viernes 7 de Diciembre:
Conferencia: "La Astrología y la medicina"
Impartida por: Xicoténcatl Rodríguez, NCGR 1
Friday, December 7th:
Conference: "Astrology and medicine"
By: Xicoténcatl Rodríguez, NCGR 1
CURSO DE ASTROLOGIA VEDICA
Expositor: Nalini Kant
Fechas: 9, 10 y 11 de noviembre
Módulos:
Viernes 10 - 14 hrs.: Principios de la interpretación de la carta védica, y las
diferencias que existen entre leer la carta desde el Ascendente, desde el Sol o
desde la Luna. Se verán ejemplos de algunas cartas de los presentes (en el orden
en que se inscribieron al curso).
Sábado 10 - 18 hrs.: Propósito de vida, salud mental y física, capacidad para evitar
el stress
Domingo 10 - 14: Distintos sistemas de casas. Significado de los planetas huéspedes
en las casas. Casas Dusthana
WORKSHOP "VEDIC ASTROLOGY"
By: Nalini Kant
Dates: November 9th, 10th and 11
Friday 10 -14 hrs. -- Principles of Vedic Astrology
Saturday 10 - 18 hrs. -- Life purpose, mental and physical health, ability to
cope with stress.
Sunday: 10 - 14: -- House systems.
~~~~~~~~~~~~~~~~~~~~~~~~~~~~~~~~~~~~~~~~~~~~~~~~~~~~~~~~~~~~~~~~~~~~~~~~~~~~~~~~
Austin CHAPTER
November 2007 Workshop
"Introduction to Horary Astrology"
by Maria Mateus
Horary astrology has got to be the "weirdest" but also the most intriguing form
of astrology anyone can learn! It's "weird" because it presupposes not only a belief
that the heavens are mirroring the earth at certain moments in time, but also a
belief that one can have a dialogue with the heavens concerning those moments in
time! In this workshop you'll learn when and how to ask the universe questions
that are important to you and how to read those answers in the astrological chart.
We'll start at the beginning and cover the fundamental techniques and concepts that
make horary astrology magically practical and completely unique. At the end of the
workshop, you too will know how to (among other things): locate a missing pet, find
a lost heirloom, purchase a problem-free house, or find out if your crush is reciprocated!
Maria J. Mateus is a practicing astrologer living in Austin, Texas. She was originally
born in Lisbon, Portugal and has a deep interest in astrological research, history,
languages, and ancient techniques. She graduated with a B.A. in psychology from
the University of Texas and will soon complete a M.A. degree from Kepler College
of Astrological Arts and Sciences. She has been published nationally and abroad
and has lectured at astrological Conferences in the United States. She also serves
as the ASA Director of Education.
Date: Saturday, Nov. 17
Time: 9:30 am-4 pm
Location: Plum Blossom Wellness Center, 1700 S. Lamar, Suite 230
Cost: $65 ASA Members/$85 non-ASA members
*****
The NCGR Austin Chapter's lectures and workshops are sponsored by Plum Blossom Wellness
Center (
www.plumblossomwellness.com
[
http://rs6.net/tn.jsp?t=il4ubgcab.0.aj6lxdcab.ds46lmbab.3367&ts=S0291&p=http%3A%2F%2Fwww.plumblossomwellness.com%2F
]).
For information about the Austin Chapter (aka Astrological Society of
Austin), go to:
www.astrologyaustin.com
[
http://rs6.net/tn.jsp?t=il4ubgcab.0.9l4asccab.ds46lmbab.3367&ts=S0291&p=http%3A%2F%2Fwww.astrologyaustin.com%2F
]
~~~~~~~~~~~~~~~~~~~~~~~~~~~~~~~~~~~~~~~~~~~~~~~~~~~~~~~~~~~~~~~~~~~~~~~~~~~~~~~~
Austin Chapter Conference
Texas Retreat 2008
A weekend of Hellenistic Astrology in Chappell Hill, Texas
February 29, 2008 at 7:00 pm to March 2, 2008 at 2:00 pm
Sponsored by GulfCoast NCGR and the Astrological Society of Austin
Featuring astrologer Joseph Crane, teaching from his new book Astrological
Roots: The Hellenistic Legacy.
About the Program: This program will help the contemporary astrologer
become familiar with the most important practices of Hellenistic natal
delineation. Each astrologer will:
* Understand similarities and differences between Hellenistic astrology and
the astrology of the medieval and modern eras.
* Learn new meanings and applications of planets, houses, aspects, and lots=
---